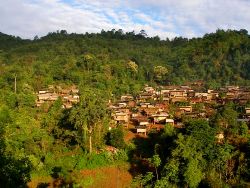 About the Teacher



Jon "Matthew" Mandeville has studied at the Wat Pho Thai Traditional Medical School in Bangkok, Thailand and the Old Medicine Hospital School (Foundation of Dr. Shivagakomarpaj) in Chiang Mai, Thailand.

He has also studied with several senior teachers from Asokananda's Sunshine Network and has served as a teacher assistant in the Lahu hilltribe village in Northern Thailand.
In addition, Matthew has studied with Khun Taragorn Nut - a blind teacher and practitioner trained by the Thailand Caulfield Foundation for the Blind - and, lastly, with Master Pichest Boonthumme at his residence in Hang Dong, Thailand.
Before studying this branch of traditional Thai medicine, Matthew's background was in curriculum development and instruction - primarily on the higher education level - having received his Master of Arts degree from the Florida State University and his
Master of Education degree from Peabody College at Vanderbilt University.
From 2007 until 2010, Matthew taught Thai massage courses and developed a 200-hour Thai Therapy Practitioner Certification Program while serving as a faculty member at the Natural Health Institute in Nashville, Tennessee until the school was sold - after which time he began teaching independently.

Matthew is certified by the National Certification Board for Therapeutic Massage & Bodywork (NCBTMB) as an Approved Provider for continuing education.
In 2012 & 2013, Matthew donated traditional Thai therapy instruction to the visually-impaired massage students enrolled at the
Six Dots Foundation for the Blind in Istanbul, Turkey.
In 2016 & 2017, Matthew visited the Abel Santamaria School for the Blind in Havana, Cuba and the Norwegian Blind Association in Oslo, Norway to explore further teaching and program development opportunities for the benefit of the visually-impaired.
Currently, Matthew maintains a private practice seeing clients and offering private Thai Therapy Practitioner training to students using the time-honored apprenticeship model of instruction.